History
Mount Saint Joseph Nursing Home is sponsored and guided by Catholic Health International. It was founded the Religious Hospitallers of St. Joseph, a congregation of religious women founded by Jerome le Royer de la Dauversiere in 1636 in Le Fleche France. A married civil servant with 5 children, he wanted to provide health care to both settlers and natives, specifically in New France, now known as Canada.
It was not until 1659 – with the help of Jeanne Manse, the 1st lay nurse of North America – that the Religious Hospitallers arrived in Montreal. Jeanne had already established a hospital in 1642 with Maisonneuve, the governor of New France.
On July 16, 1869, five RHSJ's from Hotel Dieu of Montreal disembarked at Chatham, N.B., where at the request of Bishop Rogers, they had accepted to take care of the sick, to open a boarding school for young girls and an orphanage.
Hotel-Dieu (1869-1996)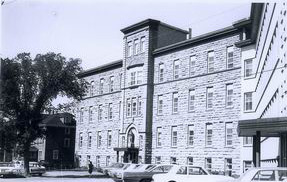 The hospital work began in 1869 in the Bishop's former residence, which also served to house the Sisters for some months. This modest start was the beginning of 127 years of service of the RHSJ's to the sick of the Miramichi region. From this Chatham Hotel-Dieu community would come the foundresses of two large hospitals in the United States and another smaller one in Alberta.The end of the 20th century brought great changes in the provision of healthcare due to restructuring on the part of the Provincial Government. The Hotel-Dieu disappeared in 1996 following the construction of the modern regional hospital for the Miramichi (the city so named after the merger of the towns Chatham-Newcastle).
St. Michael's Academy (1871-1970)
With the assistance of a lay person, the RHSJ's founded a school in Chatham in 1871. Sister Cesarine Raymond, of Montreal, was the first directress. In September 1931, classes were removed into a new building and the first school became the boarder's residence.
The Rhsj's would remain at St. Michael's Academy until 1969, the year it became a government elementary school.It later became a part of the New Brunswick Community College- Miramichi Campus, and functions in that capacity today.
Mount Saint Joseph (1949- present)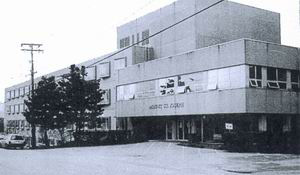 In 1949, the old section used for boarders of St. Michael's Academy was renovated and became a residence for the elderly. In 1975 the residents of the "Mount" moved into its present 4 story building. Throughout the years, Mount Saint Joseph has expanded and adapted to new needs in its milieu.
Catholic Health International (2006- )
In February 2006 the responsibilities under Canon Law for the Philosophy and Mission of Mount Saint Joseph Nursing Home were transferred from the Religious Hospitallers of St. Joseph to Catholic Health International, a Public Juridic Person, of which RHSJ is a founding and active partner.  Catholic Health International is comprised of RHSJ, three other religious congregations and the Catholic Health Association of New Brunswick, and is authorized to sponsor works of the church.